From our super comfy beds to our steamy sauna, Super 8 welcomes you to convenience, comfortability and coziness — on-location!
Free SuperStart Continental Breakfast
Start off your day the Super 8 way with our complimentary SuperStart continental breakfast. Light breakfast options available include an assortment of fruit and baked goods, as well as cold cereal and hot cereal. We also offer multiple free beverage options, including coffee, tea, juice, milk and bottled water.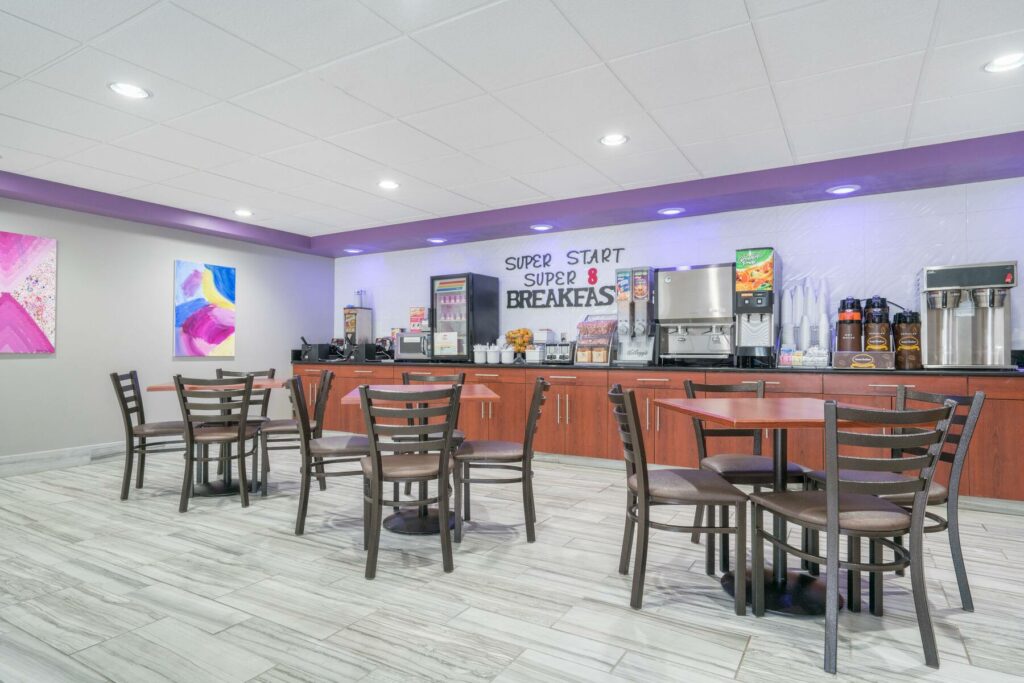 Featured Amenities
From our friendly staff to our variety of amenities, Super 8 aims to stand out from other Bloomington Airport Hotels. That's why we're committed to offering more than just the basic, run-of-the-mill amenities. Super 8 is more than just super comfy beds — but, of course, we have those too!
Both our business travelers and leisure guests love our Free WiFi, Pet Friendly Rooms, Sauna, Whirlpool, Free Shuttle Service, Spa and Fully Equipped Fitness Center — just to name a few of their favorite things!  So start and end your day the Super 8 way, with a delicious complimentary continental breakfast and wind down with a dip in the whirlpool.
Accessibility
At Super 8, we want all of our guests to feel welcome. We are happy to provide a variety of Accessible Amenities and Accommodations for guests with disabilities. Everywhere from our Public Entrance to our Guest Rooms are easily navigable thanks to accessible routes designed with wheelchairs and other mobility devices in mind. We are also happy to offer TVs with Closed Captioning and TTY Devices for Guests upon request.
Amenities for Business Travelers
There's no better place to stay than Super 8 Bloomington when visiting Minnesota on business! Our free high-speed internet is available around the clock to all of our guests, including business travelers. We are happy to offer you plenty of on-site workspaces in our Business Center and Meeting Room.
Reviews
Super 8 by Wyndham Bloomington/Airport
Average rating:
3 reviews
Jul 13, 2022
Right location. Right price. Right service.
What makes this hotel more than just a hotel is the accommodating staff. Of course you do get what you paid for and if you check-in with that mindset then the rest of your stay should go just fine just as mine did!
Jul 5, 2022
Super Hotel
The hotel super good im luck because is near the mall american
Jul 1, 2022
Reasonable price
Clean, nice place will stay again